Key Features:
Smooth and easy to operate

Automatic adjust the filling level to the container

Stainless Steel / PP variable speed Conveyor

Pneumatic Bottle Stoppering Arrangement

Pneumatic operated valve

Pneumatic Diving nozzle

A.C. Drive to Verify the machine & Conveyor's Speed
The gear pump filling machine is suitable to fill thin liquid like lubricating oil, shampoo, lotions, etc. It has big machine features in compact design with electronically change fill volume in seconds with easy to read LED digital display. The gear pump filling machine uses a gear pump concept as a metering device to fill correct amounts of liquids into containers. Each revolution or part revolution of pump delivers an exact amount of product into the container. The amount delivered is controlled by an electronic counter. Various application as
| | |
| --- | --- |
| Minimum Order Quantity | 1 Piece |
| Capacity | As per client requirement |
| Driven Type | Hydraulic |
| Machine Type | Semi-Automatic, Automatic |
| Voltage | 440 |
| Power | 3 |
| Filling System | AUTOMATIC |
| Filling Head | 1-12 |
| Type | AUTOMATIC |
| Accuracy | 1% |
| Phase | 3 |
| Automatic Grade | Automatic |
| Brand | Sumitech Engineers |
The Digi-filler uses a gear pump concept as a metering device to fill correct amounts. The volume, speed, the time between of filling can be easily set from LED control panel. All parts in contact with filling material is made of corrosion resistant material (stainless steel 316L) to meet cGMP standard. 20 filling data can be memorized.
User selectable variable fill speeds. Fills a wide variety of container sizes from 10 ml-10,000 ml.
| | |
| --- | --- |
| Milk / Ghee Filling machine | Liquid Soap / Hand Wash Filling Machine |
| Cheese / Cream Filling machine | Glycerine / Vaseline / Lotion Filling machine |
| Fruit juice / Pulp Filling machine | Sorbitol syrup Filling machine |
| Honey  / Jams / Jelly  Filling machine | Nail polish / Solvents  / varnish Filling machine |
| Molasses Filling machine | Castor Oil  / Coconut Oil Filling machine |
| Chocolate / Yogurt / Vinegar Filling machine | Olive oil / Palm oil Filling machine |
| Liquid sugar Filling machine | Furnace Oil / Mineral Oil Filling machine |
| Tomato Ketchup / Paste Filling Machine | Ink / Gum / Adhesive Filling Machine |
| Batter Filling machine | Grease / Petroleum Jelly Filling machine |
| Gels Filling machine | Pesticide / Chemical Filling Machine |
| Beverages Filling Machine | Asphalt Filling machine |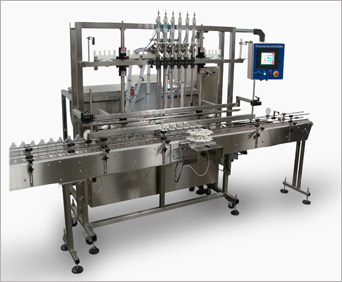 Flowmatic Auto Volume Adjustable Liquid Filling Machine :
Dispensing volume with this Automatic Inline Positive Displacement Pump Filler is accurately measured by reading the revolutions of the pump and motor assembly. Fill rates can be modulated by varying the motor speeds with ramp up and ramp down capability guaranteed to result in a clean end to your fill cycle, Our fillers range from 2 – 24 head Positive Displacement fillers, as well as multi-lane machines with pumped capacity. These Positive Displacement fillers employ highly reliable positive displacement pumps to quickly and accurately fill any product. The pumps are controlled via the HMI screen which is available as either push button or touch screen, utilizing our highly effective "Recipe" system which can be programmed to store numerous sets of settings for the various products, and packaging sizes. The filling nozzles are fitted with a pneumatically operated positive shut off valve to prevent any dripping from within the nozzles..
Accurate:
Sustained accuracy of filling, since positive displacement devices and high speed electronic processing circuits are used.  Less Than Accuracy of +/- 1% for the specified filling range can be achieved. 
Salient Features :
Accuracy – Easy to use and easy to adjust the volume dispensed with a simple control setting.

Control of both pump speed and position during the fill cycle guarantees accurate filling.

Changeover is quick with ability to store multiple programs in the PLC controller.

All machine adjustments are designed for fast changes.

Customization – Construction materials, contact parts, pump style, number of fill heads, and other options allow simple customization to your filling needs.

True positive displacement filling provides increased filling accuracy with products prone to viscosity change.

Variable fill rate control (ramp up/down) prevents foam and produces a clean accurate end to the fill cycle.

PLC Controlled.

Fully automatic.

Positive shut off valve.

Filling speed depends on size of bottles and viscosity of product.
A tool-less disassemble allows for expanded cleaning options (CIP, Remote CIP, and COP). Similar to lobe pumps, rotary gear pumps provide an accurate fill and are best suited for fill volumes ranging from 1000 ml to 25 L with different models.

Technical Specifications

 

 

 

 

 

Model

SE – PFM – 2H

SE – PFM – 4H

SE – PFM – 6H

SE – PFM – 8H

No. of filling Heads

2

4

6

8

50 ml to 1 litre

50 ml to 1 litre

50 ml to 1 litre

50 ml to 1 litre

Filling Range

1 litre to 5 litre

1 litre to 5 litre

1 litre to 5 litre

1 litre to 5 litre

5 litre to 20 litre

5 litre to 20 litre

5 litre to 20 litre

5 litre to 20 litre

Electric Specifications

2.H.P. 440 V
3 phase / 50 Hz

2.H.P. 440 V
3 phase / 50 Hz

3.H.P. 440 V
3 phase / 50 Hz

4.H.P. 440 V
3 phase / 50 Hz

Air pressure

4 – 6 Kg / cm2

4 – 6 Kg / cm2

4 – 6 Kg / cm2

4 – 6 Kg / cm2

Air Consumption

2 cfm

2 cfm

4 cfm

4 cfm